Welcome to the Bored Hoard, now we know you're here to find out how to promote your website but let us just first tell you a bit about ourselves. The Bored Hoard is a place that scours the internet to bring our Hoarders (that's what we call our users) the most interesting and undiscovered websites that Google and other search engines fail to support. Today, we want to highlight the fact that we not only showcase websites but we also help website creators like you promote your site by adding it to our Hoard and then effectively promoting it through our various channels, more about this later.
Now the internet can be an overwhelming place and it's easy to miss out on some truly unique and undiscovered websites, hence why creators like yourself can submit a website for consideration to help drive more traffic and increase visibility of your site.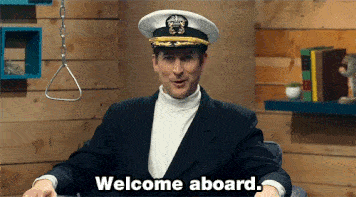 Adding your site to the Hoard 🐿️
Now we're guessing you most likely have a site to add to the Bored Hoard if you are reading this, so we'll just get on with the steps.
Step 1
Tap the menu icon and you'll then see a button saying "Add cool site"…yep you guessed it, tap it. If you're on desktop then your eagle eye will see the button top right of the page.
Step 2
Normally you'd select a package that best suits your needs but as it currently stands we've opened up the Hoard for free. Meaning you can add your site for nothing at all. Generous ehh? It won't be round forever though, so now really is the time to take advantage of it.
Step 3
This is where you add all your site information, logos, descriptions, social media links and anything else you can think of. Once you're done with that, go ahead and submit your website. We will then take a look to review your submission and if everything looks good then before you know it you'll be added to the Hoard. Welcome to the family.
How to promote your website
Our Hoarders are an interesting bunch, and we intend to keep them that way. Hence why we're always on the lookout for new and interesting websites to ensure they remain entertained and satisfied. Let us take you through some of our promotional channels and explain how they can promote your website.
Friday Box release 📦
Every Friday we feature six websites from the Hoard that we think are interesting and valuable to our Hoarders. These featured sites will sit on the homepage as well as the unboxing page for a week, until the next six sites take their place.
This is by far the best way to promote your website because Hoarders that visit the site will instantly view your website, it's literally impossible to miss.
Weekly email list 📨
Along with the Friday Box release, we'll include your site in the weekly email we send out to all our Hoarders describing what your site does and the benefits of paying you a visit.
Discover 🔍
Another great tool to promote your website is the Discover page. We feature over 800+ websites on the Hoard, all of which are interesting and have something to offer. By featuring your site on the Discover page, you'll be first in line to get noticed by our eagled-eyed Hoarders hunting for undiscovered sites just like yours.
Managing your promotion
Once you have registered and decided how to promote your website, you'll have access to your personalised dashboard that will provide you with a bunch of useful insights such as:
Page visits 💻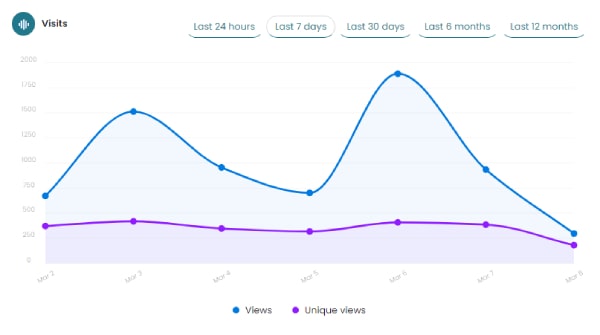 This graph does exactly what is says on the tin, it shows you the amount of views your page has received over a certain time period that can be split anywhere from the last 24 hours and all the way back to a year.
Countries 🌎
When you add your site to the Bored Hoard, you're giving your site a jetpack to boost all over the globe and collect as much exposure as possible. This insight will show you what country the majority of your traffic is coming from. You never know, it might surprise you.
Referees 👥
You'll also be able to see where Hoarders are coming from, whether that be from pages within the Bored Hoard or externally through search engines like Google, however this time you're backed up by the Hoard to give you some real exposure. Who's laughing now Google ehh?
Reviews 💬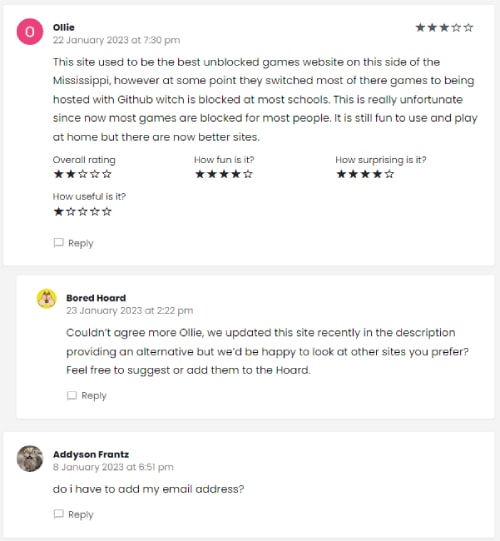 Your page also has the ability to gather ratings and feedback from Hoarders who leave honest and real thoughts based on their experience with your site. Meaning you'll be able to pull out gems of insights and optimise your kick ass site.
Categories
Once you have added your site to the Hoard, you'll also be able to choose what category your site fits under. We categorise the sites on the Bored Hoard so that our Hoarders can explore sites that match their current state of mind and not waste time aimlessly searching.
You'll be able to choose from nine categories and if you're not sure what one your site should be a part of then just drop us a line, we'd be happy to help promote your website.
Can we promote your website?
Good question, and the answer is yes based on what you have read above but we must make you aware of our policy that protects both you and our Hoarders.
The only thing that influences us is if the site is cool and interesting. However there are rules for site submissions in place to keep the Hoard a safe, fun and enjoyable place for folks far and wide.
No explicit content of any kind (seriously)
Extremist groups or cults (you have Twitter for this)
Fraudulent sites (we'll get the FBI on your ass)
Dull/Boring sites (read the room dude)
Clickbaiting/Spam (obviously)
Now we're sure your site won't fit into any of the above but if your site goes against any of the rules, then you are likely to be rejected.
Pricing
If you'd like to find out more on how to promote your website with the Bored Hoard, simply drop us an email at [email protected] and we'll explain pricing based on your requirements.