Unless you're dead from boredom, you've probably seen the genius that is Boris Johnson announce his Nandos chart to help decide when the UK can start to come out of lockdown. If you haven't, just to let you know, we're somewhere between the hot and medium phase.
Rate your boredom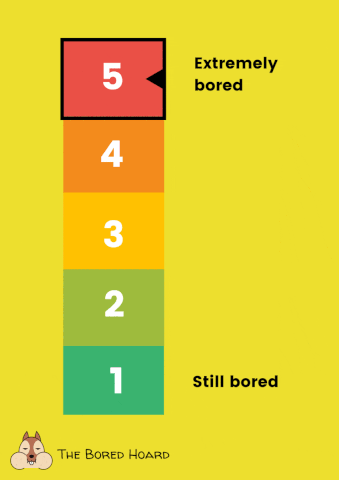 If it's good enough for BJ, it's good enough for us. You can use this chart to decide what boredom stage you are at and feel the need to visit The Bored Hoard. As you can see, it's a highly scientific piece of kit, driven by data…
If you've hit complete boredom
Unlike the government, we know our shit and have a number of ways to cure your daily boredom. If you'd like to glance your eyes slightly down, you'll find some suggestions that we include in our free weekly boxes.
We've also just learnt that Epic Games have released GTA 5 for free until Thursday 21st May! So instead of blowing real shit up and causing trouble in your neighbourhood, you can do it via good old safe gaming. There's also no lockdown rules in GTA…
Share your bored stage
Next time you're scrolling through your favourite social app, instead of uploading a nude or trolling a celebrity, share your bored stage. It literally won't do anything to increase your followers, but at least you've respected the fucking effort we put into making it.