Ahhh movies, who doesn't enjoy good movies to watch when bored ? Or discussing a movie with friends, family or complete strangers on social media and even in online forums where everyone believes their opinion matters? It doesn't by the way.
In 2022, there are a lot of good movies to watch when bored. For example, if you have a Netflix account, you can watch movies on Netflix. If you have an Amazon Prime account, you can watch movies on Amazon Prime. Sounds simple right?
The problem is that with so many choices, it can be really difficult to decide what to watch. Also choosing something gets extremely difficult when you're bored, as usual, and I'm sure you know what I'm talking about. No? Think about food, sometimes you just want to have a bite, but aren't sure what you want and the 20th trip to the refrigerator isn't helping.
Sure, you can eat another rotten apple or cut another piece of cheese, but it will not satisfy you.
We all know what happens next: you pick up your phone, unlock it, go to the "I'll start the diet on Monday" folder, then order a pizza or burger to go.
Don't be embarrassed, we're just like your favourite takeaway coming up with a list of good movies to watch when bored, and I hear you, maybe the one "hungry" or bored here isn't you, but your child, or a teenager you're caring for; or maybe you just want to see something with the family. Don't worry, we'll divide our recommendations into distinct lists of good movies to watch when bored in 2022!
Or you could just keep scrolling on Netflix or Amazon Prime indefinitely, hoping to find yet another "excellent movies to watch" post on Reddit or, even worse, a list of movies on IMDb.
That will be your bad apple bite.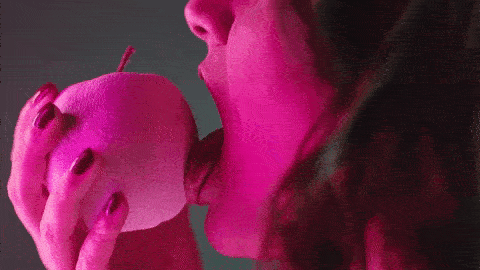 Now if you ever find that it's movies you're starting to get bored of, then we also have you covered (of course we do). We created a specially curated pack of "80+ cool and interesting websites to visit" to keep you entertained once the movies just ain't kicking it anymore.
But, without further ado, let's get you sorted with our takeaway menu of good movies to watch when bored so you can give us a five-star rating, Cliff the delivery guy is on his way.
Skip to the best bits of our "good movies to watch when bored" suggestions by tapping a category below:
Animated movies to watch when bored
Cartoons or animations in general are just great at killing boredom no matter your age or status. It's almost scientific: the narrative is linear, the characters are well defined, there's just one conflict and one resolution and generally a moral to the story. Take Disney or Pixar films, and you'll have instant classics that the whole family will appreciate.
So if you don't have or want to spend a ton of brain power on what you're watching, this category is great for good movies to watch when bored. Here's a few picks.
Ratatouille
🕒 1h 51m 🟨 8/10 IMDb 🍅 96% Rotten Tomatoes 🐿 7.61 Bored Hoard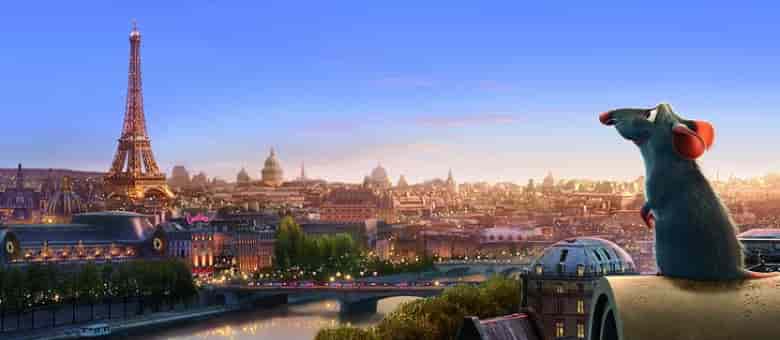 Right, so the first film kicking off our good movies to watch when bored list is Ratatouille, it's a brilliant movie that demonstrates that no matter what the hurdles are, and the obstacles in this case are quite extraordinary, if you truly want to achieve something, you can.
Don't be put off if you're not a foodie; you'll love Ratatouille for its fast-paced narrative and endearing characters.
Oh, and this film is so popular that people have begun recreating the actual dishes from it.
So there's another way to kill boredom: watch the movie and then cook what you saw.
Here's some assistance.
Ratatouille trailer
One Hundred And One Dalmatians
🕒 1h 19m 🟨 7.3/10 IMDb 🍅 98% Rotten Tomatoes 🐿 7.101 Bored Hoard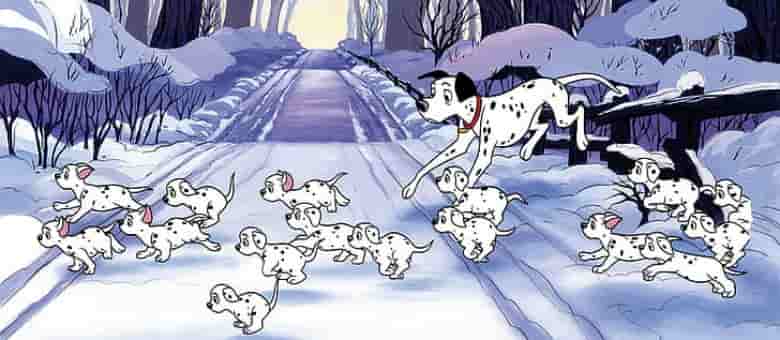 In the truest sense, this is a classic. Hence why it has found itself on our good movies to watch when bored list.
One Hundred And One Dalmatians was released in 1961, right smack in the middle of Disney's Silver Era, and it gave birth to iconic characters like Cruella Deville, who have spawned spin-off films to this day.
If you haven't seen it yet, do yourself a favour and give it a little over an hour of your time.
We're still perplexed as to how Roger can afford an apartment in the heart of London, but that's a story for another day.
One Hundred And One Dalmatians trailer
Inside Out
🕒 1h 42m 🟨 8.2/10 IMDb 🍅 98% Rotten Tomatoes 🐿 8.10 Bored Hoard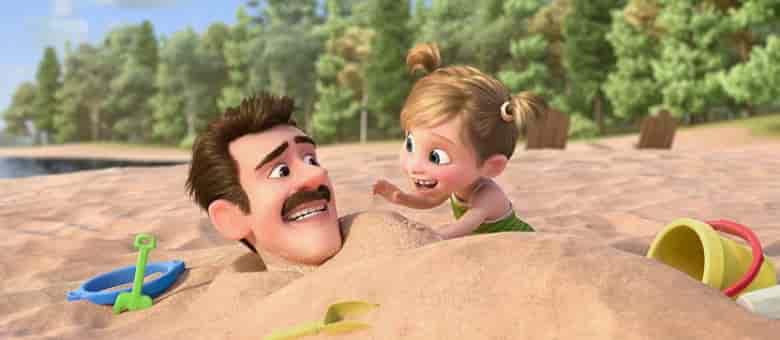 "Bing Bong" is all I have to say to you. That's all there is to it; go watch it and then come back here and tell us whether we were right to add it to the good movies to watch when bored list.
Jokes aside, when this movie was released the know-it-alls were criticising Disney/Pixar accusing them of creating movies with the same fil rouge: People have emotions, animals have emotions, cars have emotions and now emotions have emotions (we'll find out later with Coco and Soul that dead people and souls have emotions as well). Soooo, what exactly is the issue here 🤷‍♂️?
This film speaks to your irrational side, to a deeper "You" that is frequently ignored or neglected, and we highly recommend it for that reason. If you're bored, this film will undoubtedly jolt you awake.
Inside Out trailer
Kung Fu Panda
🕒 1h 32m 🟨 7.6/10 IMDb 🍅 87% Rotten Tomatoes 🐿 6.11 Bored Hoard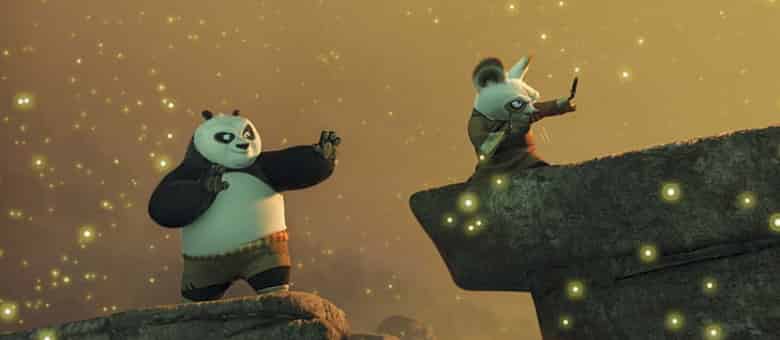 Let's get this out of the way: Kung Fu Panda isn't a masterpiece. But it's on the list because it's so damn fun. Po, voiced by none other than Jack Black, is a fun character who desires to deviate from the road laid out in front of him in order to chase his ambition. His physical features combined with his resilience and the classic mockery of martial arts training scenes, makes this movie a small gem to watch and rewatch when you're just seeking pure fun hassle free entertainment.
Furthermore the voice actors are of a different calibre: in addition to the already mentioned Jack Black this movie features some black belts (pun intended) like Dustin Hoffman, Jackie Chan, Angelina Jolie, Seth Rogen, Lucy Liu, David Cross, Wayne Knight and a long list of others.
Another reason why it's on the good movies to watch when bored list is because the film contains the best animated movie quote ever:
Yesterday is history, tomorrow is a mystery, but today is a gift. That is why it is called present.
Goosebumps 🐢
Kung Fu Panda trailer
Space Jam
🕒 1h 40m 🟨 6.5/10 IMDb 🍅 44% Rotten Tomatoes 🐿 6.23 Bored Hoard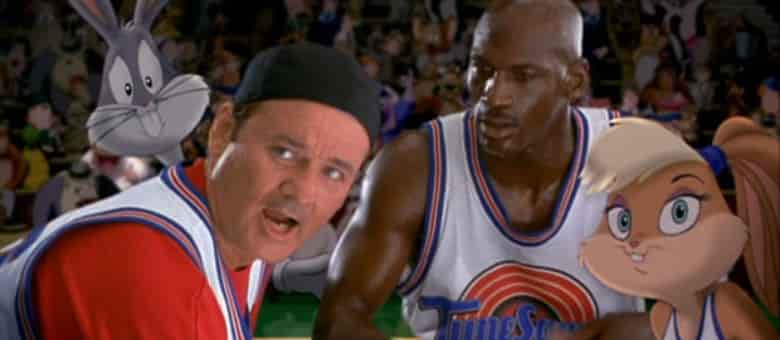 Okay, this may be a stretch for good movies to watch when bored, and admittedly, this film hasn't aged well either (maybe that's why the…well, subpar remake?).
In any case, Space Jam is included for nostalgic purposes.
Anyone who grew up in the 1990s remembers Michael Jordan as being bigger than the sky, and the other players in this film were global superstars too.
People were also looking forward to seeing a film that was technically comparable to the classic "Who framed Roger Rabbit" starring the charming cast of Looney Tunes.
So fire up your VHS player and enjoy this 90s classic 📼
Space Jam trailer
Zootopia
🕒 1h 48m 🟨 8/10 IMDb 🍅 98% Rotten Tomatoes 🐿 7.44 Bored Hoard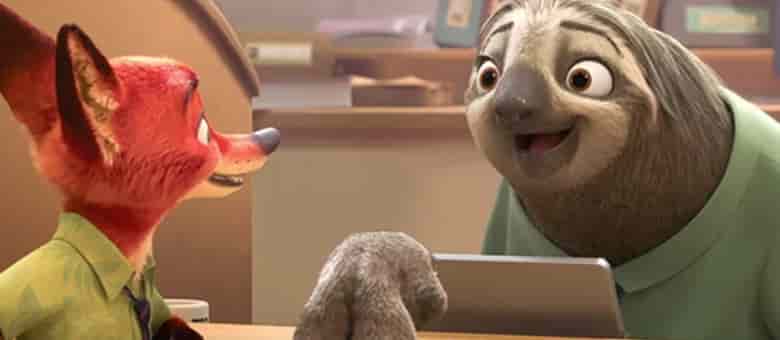 There are two ways to enjoy this movie.
One is the easy-boredom-killer-easy-entertainment route, which follows the adventures of a little rabbit who aspires to be a police officer.
Two, a more in-depth examination of societal stereotypes based on class or gender, in which certain people are destined to be "cute" or doomed to the role of "prey."
You don't have to be a predator to enjoy this film as food for your thoughts (see what we did there? 🧐).
Zootopia trailer
Best comedy movies when you're bored
Comedies, the category that encompasses everything, provides some of the best selections for good movies to watch when bored. Comedies will always be the go-to genre for casual viewers, whether it's a rainy Sunday afternoon, a casual Monday evening after work, or simply something to watch with your pals.
But, with such a vast archive to choose from, how do you decide? 🤔
You could browse through hundreds of titles on Netflix or Amazon Prime, or you can simply leave it to us. Been there, done that. Here it comes.
The Mask
🕒 1h 41m 🟨 6.9/10 IMDb 🍅 80% Rotten Tomatoes 🐿 6.33 Bored Hoard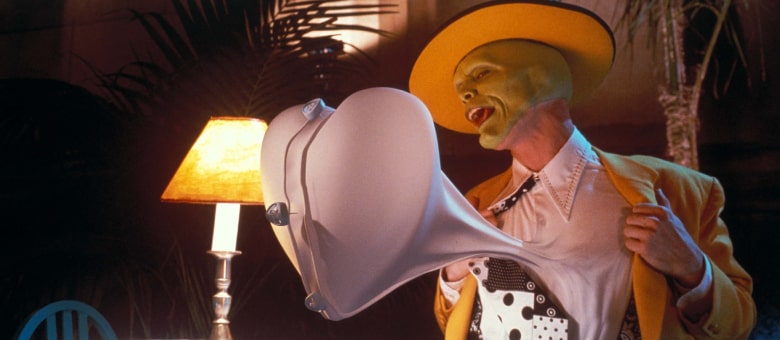 Oh Jim Carrey in The mask, what a performance folks.
This is one of those films in which the protagonist is more essential and memorable than the narrative. It couldn't be any other way. The mask is a larger-than-life, almighty being whose sole purpose is to live its (?) existence to the fullest.
As a side note, this is the first time we hear about Loki, the mask's creator, on the big screen, 17 years before he appears in Marvel's Thor (another one to add to the good movies to watch when bored…maybe)
We may imagine The Mask destroying the MCU in a parallel universe.
Sssss-smokin'!'
The Mask trailer
Groundhog Day
🕒 1h 41m 🟨 8.1/10 IMDb 🍅 97% Rotten Tomatoes 🐿 7.77 Bored Hoard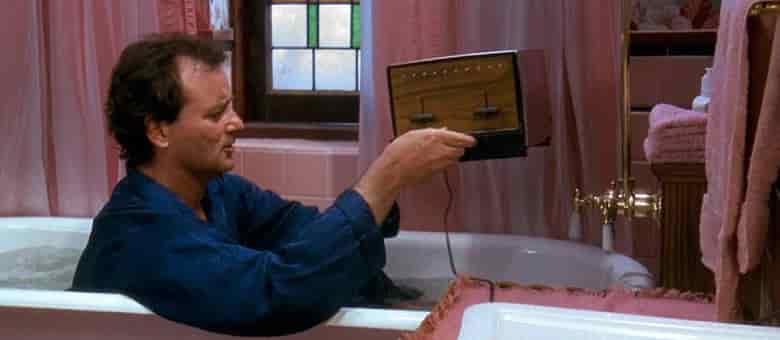 Only a few movies manage to become so popular that they are employed in our daily lives, despite the fact that their original plot is lost.
One of these is undoubtedly Groundhog Day; I'm damn sure many of you have used its moniker to indicate dissatisfaction when faced with the same circumstance or occurrence repeating itself over and again ⏳
That's Groundhog Day, a must-see film, the first of its kind, about a man who finds himself trapped in the same day over and over again. If you think about it, that's probably why you came here in the first place: you're bored and looking for good movies to watch 'cause…you're bored. In fact, we're sure Phil (Bill Murray) could have done with this good movies to watch when bored list when he was at his lowest point.
I hope you have better luck, because according to the screenwriter the main character loops over a massive 12,394 days, or about 34 years…living the same day. Pretty much adulthood.
Groundhog Day trailer
Meet the Parents
🕒 1h 48m 🟨 7/10 IMDb 🍅 84% Rotten Tomatoes 🐿 6.06 Bored Hoard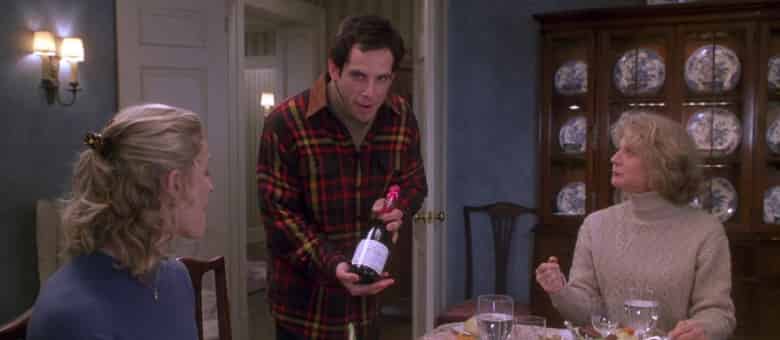 We're confident that the central plot of this film will resonate with almost everyone: the first time you meet your partner's parents. Is it going to be good? What am I supposed to say? It's understandable; you simply want to make a positive first impression. Now think about the worst-case scenario in this setting, and you'll get Meet the Parents 😅
The most striking aspect of this film is how empathetic every watcher gets with the protagonist, Greg Focker (talking about first impressions). A delightful Ben Stiller, who strains to meet the impossible high expectations of his partner's father, a not surprisingly terrific Robert De Niro. It's a never-ending series of misunderstandings, misjudgments, or simply unlucky happenings that will undoubtedly provide you with a nice time and a few smiles.
Meet the Parents trailer
Mary Poppins
🕒 2h 19m 🟨 7.8/10 IMDb 🍅 96% Rotten Tomatoes 🐿 6.54 Bored Hoard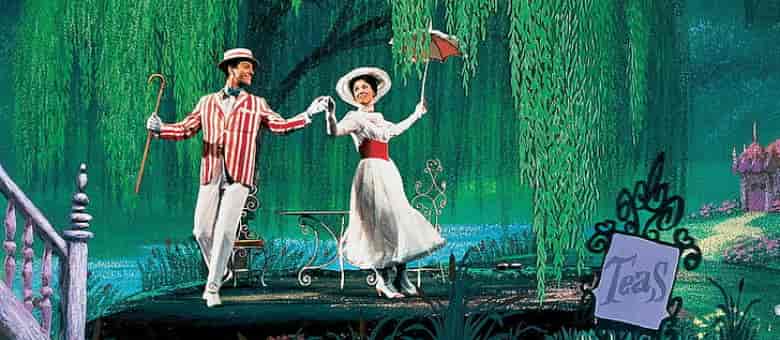 How can we describe Mary Poppins? Mmm, as a kid it's a thing of wonder, a super nanny who comes in and makes everything funny, from house chores to walks in the park, everything becomes an adventure to be experienced with fun friends and beautifully drafted characters. As an adult you start seeing the fake birds chirping, the silliness of a boat built over a senile retired captain's house and the moral gets quite frankly diluted into a juvenile illusion.
Now we were in two minds whether or not we should add it to the good movies to watch when bored list. That being said, Mary Poppins is a nice brain-switched-off movie to watch which can entertain kids and adults alike providing over 2 hours of throwback boredom-killer fun… that is if you can get past Dick Van Dyke 'atrocious' cockney accent (his words, which we agree with). Supercalifragilisticexpialidocious ☂️
Mary Poppins trailer
Chef
🕒 1h 54m 🟨 7.3/10 IMDb 🍅 87% Rotten Tomatoes 🐿 8.81 Bored Hoard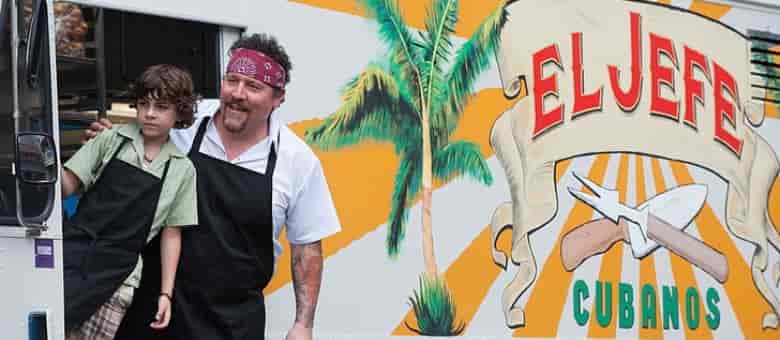 In recent years we have assisted the rise of culinary shows, chefs becoming superstars and reality shows based on the art of cooking. Bang in the middle of this period Jon Favreau (producer, director and main actor of the movie), came up with Chef. A movie not enough people talk about.
Somehow following the steps of Fatih Akin and his Soul Kitchen, Jon Favreau delivers a story which doesn't just talk about the cooking or the kitchen (Hitchcock's macguffin?) but he delves deeper into relationships, emotions and life choices. Everything should be part of the mix and when the ingredients are well combined and balanced everyone at any age can create masterpieces. Social media plays a big role in the movie too for a touch of realism.
Mark our words, at the end of the movie you'll want to eat a Cuban sandwich 🥪
Chef trailer
Movies to pass the time
Ok so in the above lists you have some absolute classic good movies to watch when bored, but we all know the kind of times we're living and chances are in 2022 you might have a lot of time on your hands, which reminds us, if you need some other ideas check out our "Complete bored guide of fun and easy ideas", that should set you straight for a while at least.
So why not fill that time with some of the most amazing movies most people are terrified of just because they require a lot of time investment? Funny enough normally these are the same people bingeing a 13 season series in a weekend (don't worry we got you covered too later on 🤫)
These descriptions might be a little longer, but hey, longer are the movies too. If you think we should have added other good movies to watch when bored to this category then just comment below, there's a lot of debate about these.
The Lord of the Rings
🕒 9h 27m combined Avg Scores: 🟨 8.9/10 IMDb 🍅 93% Rotten Tomatoes 🐿 9.50 Bored Hoard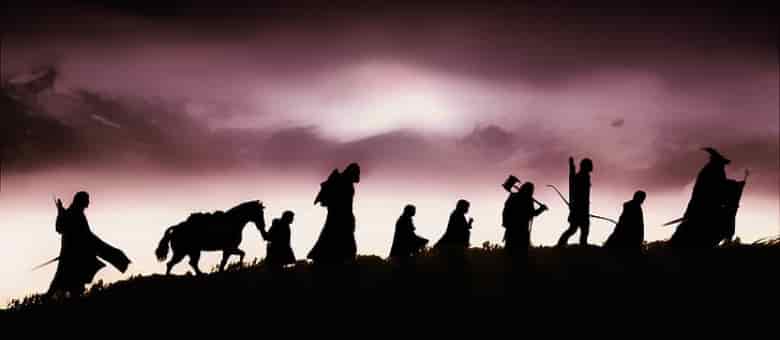 Could The Lord of the Rings not be included in any film rankings or lists, especially good movies to watch when bored?
Clearly, no. That's why we put it here; hell, we made the category only to feature this incredible Peter Jackson trilogy.
But what makes it so appealing? My fellow hobbit, the answer is fairly simple. Everything. No matter if you are a fantasy fan or not, everyone can immerse themselves in the wonderful and diverse world of Middle-earth, inhabited by some of the most incredible species, all (almost) teaming up to destroy the One Ring belonging to that eye in between mountain peaks you have undoubtedly seen in some pictures around the internet (that's Lord Sauron, for future reference).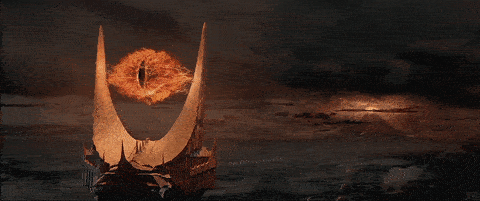 The plot is captivating, relationships grow and strengthen throughout the journey, differences are bridged, and your heart will explode in an emotional roller coaster. And the visuals, oh the visuals. You'll understand why millions of people were obsessed with the franchise if you watch some of the backstage footage of Peter Jackson creating the effects in this film. It's been nearly 20 years since the trilogy was released, and it's still holding up admirably.
If you haven't seen The Lord of the Rings yet, you should. It'll be well worth it if you're bold enough to do it in a marathon and is always top of the list for good movies to watch when bored. Fly, you fools 🧙‍♂️
The Lord of the Rings: The Fellowship of the Ring trailer
Toy Story
🕒 4h 35m combined Avg Scores: 🟨 8.2/10 IMDb 🍅 99% Rotten Tomatoes 🐿 8.50 Bored Hoard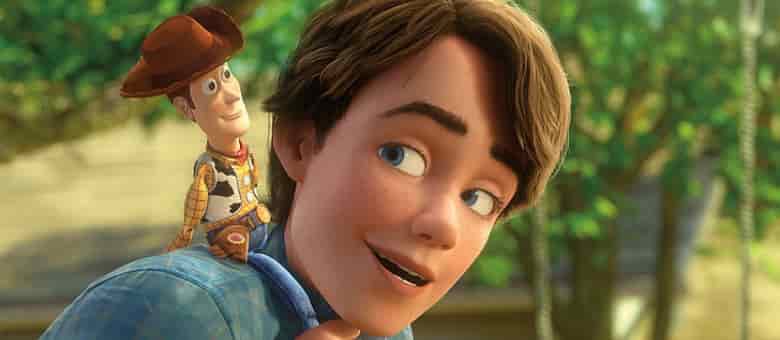 Disclaimer: We're only looking at the first three films in the series, not the fourth. Why? Because the most recent film in the series felt more like a spin-off than a continuation of the original series, at least to us.
Forky's storyline didn't feel as integral to the original plot, and the character didn't contribute much to the franchise. Consider Mr. Potato, Rex, Slinky Dog, and Stinky Pete (and we haven't even discussed Buzz). Yes, Forky has some memorable phrases like "I'm trash!" but there's not much substance to it.
Some could argue that Toy Story 4 isn't really about Forky, and while we agree with that sentiment, without spoiling too much we also think the plot was a bit of a stretch and a little too similar to the first film in the franchise. Maybe they intended to relaunch with a younger demographic in mind?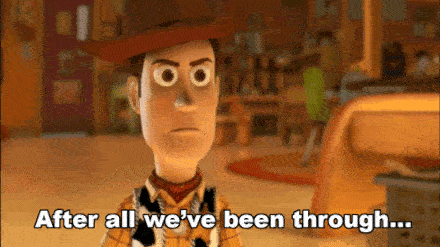 But that is the point; for some of us, Toy Story was the tale of our childhood; we grew up alongside Andy, followed in his footsteps, and even shared some of his toys. Following Woody and Buzz's adventures, we learned about friendship, compassion, discrimination, and a variety of emotions.
Growing up meant abandoning certainties and safety nets and having to adapt to new situations and environments, and the toys had the same worries and uncertainties that we did. So it was only right that we added it to the good movies to watch when bored suggestions. Toy Story was there for us during these difficult times, and we adored it for it ❤️
Toy Story trailer
The Matrix
🕒 6h 57m combined Avg Scores: 🟨 7.5/10 IMDb 🍅 65% Rotten Tomatoes 🐿 7.99 Bored Hoard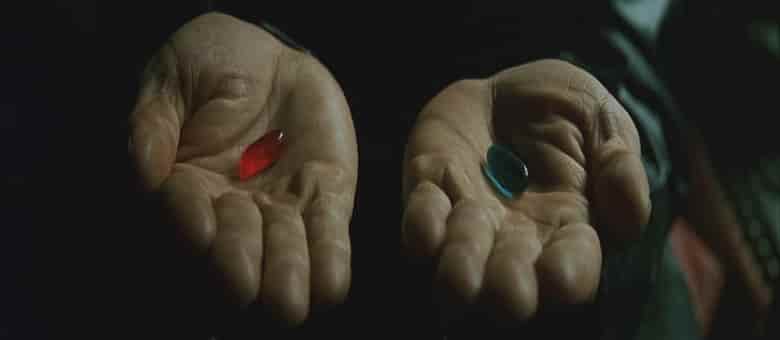 It was a shock when The Matrix was initially released. And in a variety of ways, as we approached the new millennium, the Wachowski sisters redefined science fiction. It was the millennium bug era, an unknown future that all of us in the 1990s knew would be drastically different from what we had known up to that point. And it really was, so, why do we think it's in the good movies to watch when bored pile? Well read on and you'll find out.
The Matrix depicts a dystopian world in which machines or computers have taken over from humans and created a sort of reality in which humans will go about their daily lives ignorant of their outer world. Basically, social media 1.0. Neo (Keanu Reeves) is the chosen one, a modern-day Jesus who should set everyone free from their illusionary bonds. In this action-packed trilogy in which nothing is as it seems, will mankind triumph over machines? You'll have to decide for yourself.
For its day, the aesthetics were also spectacular. Bullet time scenes were introduced, and they were not only visually amazing, but they also helped to enhance the narrative by giving the impression of twisted space and time. The scene in which Neo dodges bullets by bending backwards on a building's top became classic. We were dazzled by it the first time we saw it. Here's how these scenes were made.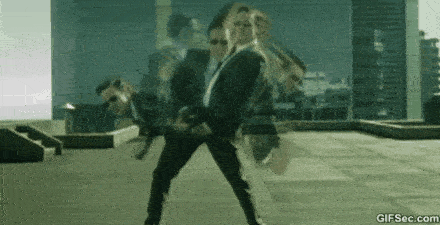 Moreover The Matrix gave us so many memorable scenes that they became not only inspiration for future films, but also part of our daily lives. Think of the blue or red pill (used as an example by many conspiracy theorists nowadays), Neo's iconic style (which may or may not be the greatest anymore), the green rain of text/code (which became a screensaver for many of us)… Okay, not all of them were particularly fantastic, but still 😎…
You'll probably have to watch and listen carefully for this entry, but with so many action sequences, we're confident you won't be bored, and you might even find yourself asking yourself a question or two. No, you can't learn martial arts via uploading software into your brain just yet; we're waiting on that too; but you can add this to your list of good movies to watch when bored (see what we did there…).
The Matrix trailer
Avengers: Infinity War & Endgame
🕒 5h 31m combined Avg Scores: 🟨 8.4/10 IMDb 🍅 85% Rotten Tomatoes 🐿 4.1 Bored Hoard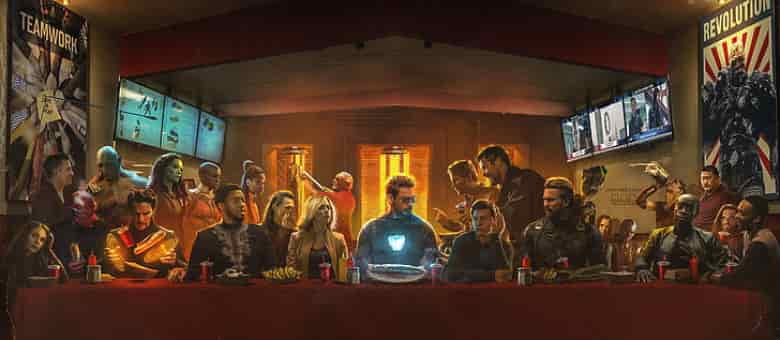 These two films, when watched together or separately, are a colossal waste of time.
I don't care if you're a comic hardcore fan or an MCU devotee, no matter how you lay it down this thing is completely ridiculous. The only thing we can give Disney credit for is starting with Iron Man in 2008 and building this money machine saga for an entire decade.
Do you really need to see a decade's worth of movies to appreciate these two…things?
Absolutely not; the plot is repeated several times throughout the films, so you may simply turn off your brain and watch some action scenes. To be honest, there's not much else to add. Unless you are aware of Marvel, you will not be fond of watching superheroes fight, thus you should probably disregard this recommendation.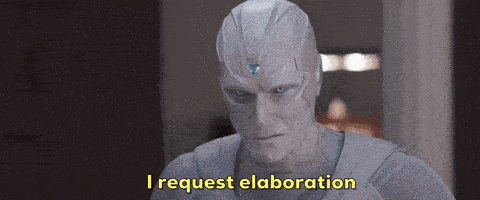 But why are we recommending such a long film saga if we believe it is so bad? Because, regardless of how you look at it, the MCU movies have marked a shift in both the view of superhero films and the production of comic books. It's a trend that's brought a lot of people to the movies, broadened the demographic (good news, you're no longer a nerd), and made a lot of money 💰.
The movies, on the other hand, are terrible, and I just realised I haven't even mentioned the plotline. And I suppose it's because it's completely irrelevant. Anyway, Thanos is a purple alien who wants to wipe off all life in the universe because of a childhood grief. Before he can collect all the super-duper-gauntlet-of-mass-destruction-gems and flick his fingers to kill everyone, Earth's superheroes must band together as the Avengers to stop him. Without revealing too many spoilers, that's essentially the plot.
So it's on the good movies to watch when bored list because if you have 5 and a half hours to kill, you can easily give this a shot; at the very least, you'll be able to say you saw it and not feel like a nerd, or in this instance, an anti-nerd? Who knows. If you're a cinephile, on the other hand, "flick away" from here…
Avengers: Infinity War trailer
Kill Bill
🕒 4h 8m combined Avg Scores: 🟨 8.1/10 IMDb 🍅 84% Rotten Tomatoes 🐿 8.77 Bored Hoard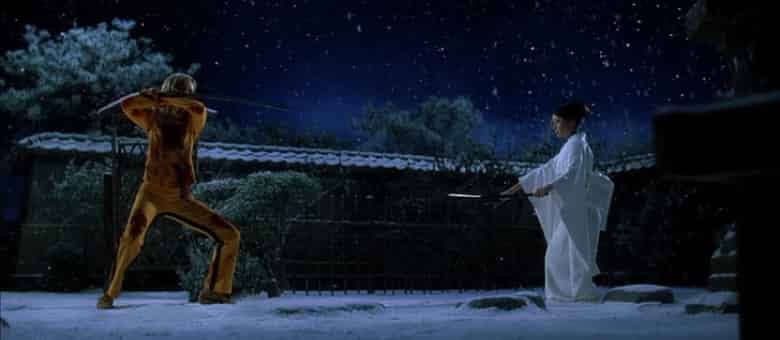 The following entry may not be appropriate for the entire family, especially if you have youngsters who are sensitive to blood or violence. You've been advised. That said, we're a little embarrassed to include it after Avengers: The Silly Saga, but hey, different people have different preferences and opinions, and that's a good thing.
Kill Bill is a revenge film about a long journey of retaliation against Bill (surprise surprise), who is responsible for a terrible act of brutality against our protagonist, played by Uma Thurman. We'll see an escalation of battle sequences in the classic Japanese shonen manga style from the moment she miraculously awakens, with each opponent becoming stronger and stronger until we approach the final boss. Bill, played by an incredible David Carradine.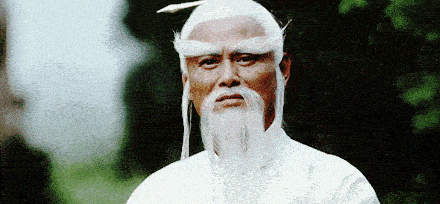 Indeed, the film is clearly much more than that. Tarantino is a brilliant filmmaker whose approach is a blend of his knowledge of the history of the seventh art, from which he gleans everything he can, and his own extraordinary talent. Even in these films, there are some incredible moments, from a smooth cut into animation to recount past events to the use of the infamous yellow tracksuit, which is reminiscent of Bruce Lee. We actually could have added many more Tarantino classics to the good movies to watch when bored library, but we'll hold off…for now.
The characters in this movie are iconic and they stay impressed in your memory because of how well they're described: All of the Deadly Vipers, Gogo Yubari, Hattori Hanzo, Pai Mei, all of their appearances are distinct, almost as if we're seeing a cartoon or anime rather than a genuine plot, and we believe that was Tarantino's objective.
The direction is strong, the fighting scenes are thrilling to watch, and the soundtrack is fantastic and perfectly suited to the picture. All of this is accompanied by powerful emotions; this isn't just another action film; it's so much more. You'll be completely immersed in it, and you'll be rewarded with an incredible experience. This movie should be way up there on your list of good movies to watch when bored.
Kill Bill: Vol. 1 trailer
Series to binge when bored
Binge-watching series has surpassed movie-watching in recent years, resulting in some strange dynamics. When you ask someone if they watched a specific movie, they may say they don't have time to see the entire film, only to later reveal that they binge-watched all 12 seasons of The Big Bang Theory in one weekend. Not to mention the fact that some television shows have single episodes that are as long as or longer than movies. So yes, of course there are good movies to watch when bored, but there are also some kick ass series too.
So, what is it about the series that makes it so compelling? It's no coincidence that as services like Netflix and Amazon Prime grew in popularity, so did the amount of time people spent watching series. These platforms set aside large sums of money for their programmes and provide a diverse range of themes. You can easily go from crime to comedy, and these platforms have gotten incredibly adept at keeping you hooked.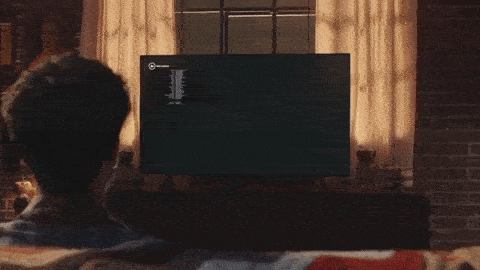 Furthermore, series provide the sensation of being busy for several evenings, whereas movies do not. Movies come to an end, and most of them don't have sequels or follow-ups, so you'll have to find something else to watch. Series fix this problem by giving you "something to watch" for a while… or until you binge again.
By the way, as for the suggestions in the sections above, we'll also provide here the total amount of time required to watch the full series, so you can get a good idea of how long it will take you to binge-watch it. You could also be embarrassed by how much time you wasted ⏳
What method did we use to calculate it? Well, there's one of our nifty sites that calculates the combined time for you instantly. Simply enter the shows you intend to watch, and voila, you'll have an accurate estimate. Tiii (3 i's) is the name of the website, and it was featured in Box 30. So, if you bear with us, let's voyage from good movies to watch when bored over to series shall we.
The Big Bang Theory
🕒 4d 6h 18m combined 🟨 8.2/10 IMDb 🍅 81% Rotten Tomatoes 🐿 6.28 Bored Hoard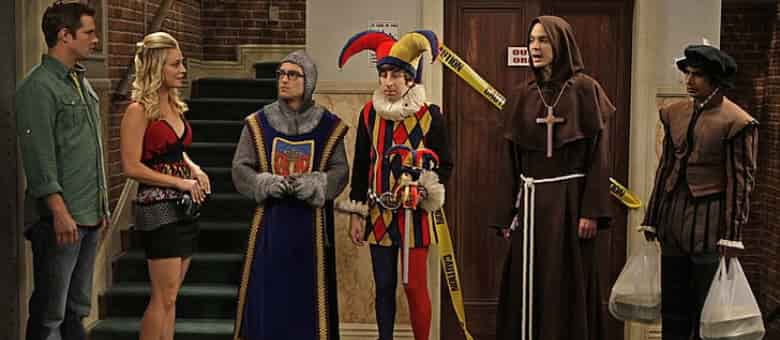 These folks would have been all over our good movies to watch when bored suggestions. The Big Bang Theory has become a must-watch for many people, and, like Avengers, it has turned many so-called geeks into popular viewers, or perhaps they have simply made being a nerd cool. Go figure.
From 2007 through 2019, The Big Bang Theory tells the story about a group of extraordinarily educated scholars who approach everyday problems from a scientific perspective 🔬.
This results in a plethora of jokes and amusing scenarios to laugh at or with.
The best one that comes to mind is when Leonard, Howard, and Raj are inadvertently stoned on magic brownies and wind up in their own little paranoia, with Leonard saying one of the best lines: "I hate my name. It has nerd in it. Len nerd". You can watch it here. Hilarious.
It goes without saying that Sheldon, who has his own spinoff series in Young Sheldon, is the character to watch in this season. Sheldon will make you laugh since he is innocent and always talks about what is on his mind. Everything is dictated by his colossal ego.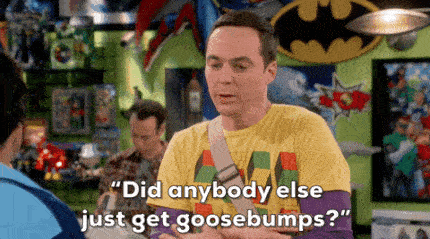 The characters change so significantly throughout the series that if you watch the first and last seasons back to back, you won't recognise them by the end. This is understandable because it wouldn't have been possible to produce 12 seasons otherwise.
Give this show a try if you want something to watch in the background as you play another game of candy crush or if you simply want some light entertainment to watch for a few days.
It's just around 20 minutes per episode, so maybe the background laughter and applause won't bother you.
Friends
🕒 4d 2h 20m combined 🟨 9/10 IMDb 🍅 82% Rotten Tomatoes 🐿 7.51 Bored Hoard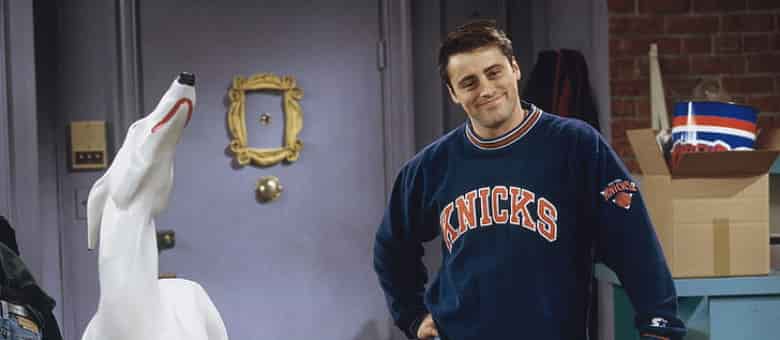 We're sure this group of friends would have had something to say about our good movies to watch when bored suggestions, they pretty much debated everything. Anyway, If you haven't heard of Friends, you've been living under a rock. Friends revolutionised television by introducing unique characters and humorous quips that many of us still use today. Pivooooot anyone?
Our key characters are Rachael, Monica, Phoebe, Joey, Chandler, and Ross, and while Rachael is meant to be our protagonist as the show goes, it's hard to discern a main character. Every episode or group of episodes concentrates around the concerns of one or more characters, giving us the idea that the series is about all of the characters being friends.
And the show does it brilliantly: it's a lighthearted, easygoing comedy that you can binge watch on any occasion, packed with hilarious moments and a sideline romance that kept us engaged and drove us to choose sides. Damn spoilers!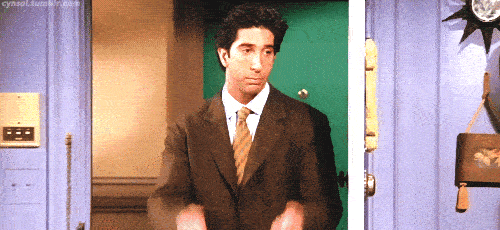 Friends, on the other hand, wouldn't be Friends without the series' numerous side characters and guest stars. All of the secondary characters you'll grow to love include Janice and her terrible voice, Gunther, the boss of the iconic Central Perk cafe, Mike played by Paul Rudd (that should suffice), and David, who comes after Mike for a reasons (Damn spoilers #2!). Among the series' guest stars are Bruce Willis, Julia Roberts, Brad Pitt, Tom Selleck, Danny DeVito, George Clooney, and Alec Baldwin.
What else is there to say? Friends is one of those must-watch television series due to its historical significance and sustained entertainment value over the course of ten seasons. Give it a shot, and you will not be disappointed.
Breaking Bad
🕒 1d 22h 30m combined 🟨 9.5/10 IMDb 🍅 96% Rotten Tomatoes 🐿 8.08 Bored Hoard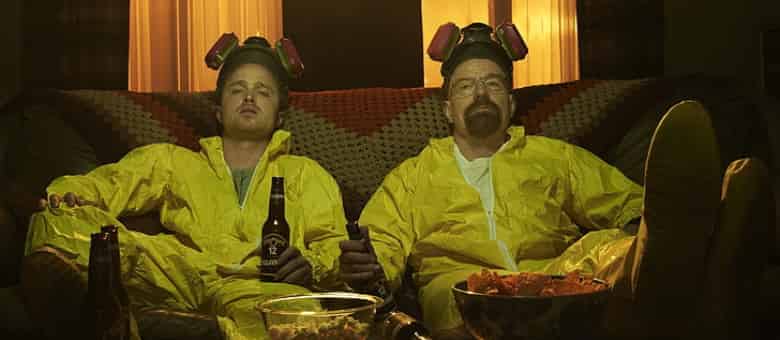 Is there ever going to be a list of shows to watch that doesn't include Breaking Bad?
We don't believe so, but hey, de gustibus non disputandum est (your taste is awful in Latin).
Breaking Bad is most likely the series that has pushed us to serialise storylines by breaking down (pun intended) a large film into little individual episodes without affecting quality or narration. The bright side? Because the authors are not restricted by the constraints of time or film length, they may fully develop the characters and the storyline, accentuating significant moments and lingering on thoughts, uncertainties, changes, and actions.
And it's plausible this is Breaking Bad's best virtue. It's all about the character development.
Walter White is a chemistry schoolteacher who receives a terminal lung cancer diagnosis.
This tragedy leads him to realise that he must save enough money for his family's future. So, what exactly does he do? He leverages his strengths. He's a chemistry teacher, and drug dealing is a lucrative industry that pays off quickly. Walter's change begins from there, and you'll be hooked to the screen the entire time, due to Bryan Cranston, who plays the role of his life.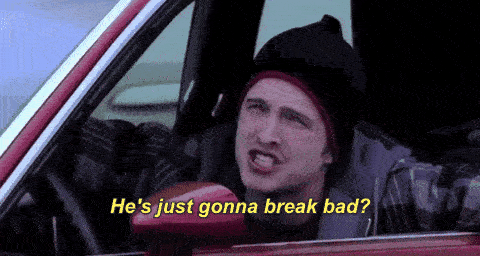 Walter White is a fascinating character, but the rest of the ensemble is just as good, if not better.
Jesse Pinkman is the ideal partner for Walter, and his growth is incredible; Hank is a classic TV series cop, but only at the beginning; Skyler and Walter Jr. are Walter's family, whose lives would be completely disrupted by Walter's actions; and a separate mention goes to the characters of Saul Goodman, Mike, and Gus Fring, who will be found in all their glory in the series spin-off Better Call Saul (which you should also watch, but because it hasn't ended yet, it won't be included in this list.)
There's a lot more to say about this series, starting with the directing and photography; certain frames are real-life paintings that portray and narrate Walter's story without the need for words. You'll have to decide whether Walter's climb to godlike status is cynical, sad, exhilarating, devastating, epic, and glorious, or whether it's just a steep descent to hell.
Yes we're aware we have strayed away from good movies to watch when bored but seriously, stick with us on this.
The Office
🕒 2d 23h 30m (+6h) combined 🟨 9/10 IMDb 🍅 81% Rotten Tomatoes 🐿 7.22 Bored Hoard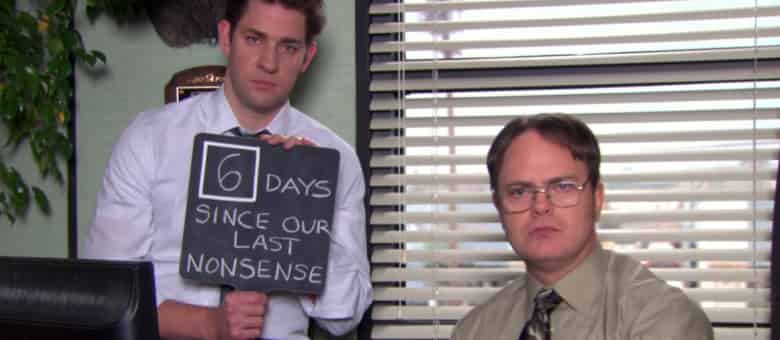 The Office would challenge any good movies to watch when bored every damn day of the week. We struggled a lot to come up with the best way to describe The Office, and the best we could come up with was that it's a meme factory. Even those who haven't seen a single episode have posted at least one Michael Scott or Dwight Schrute GIF.
That's pretty much what you're getting yourself into. Although there are some parallel plots between characters, the entertainment value provided by the gags in this series is the meat on the bone.
Each of the characters is distinct, and they are all characters in the literal sense. In an office setting where everyone should be bored or frustrated, these guys manage to concoct some absurd moments that will undoubtedly make you laugh and share with your friends.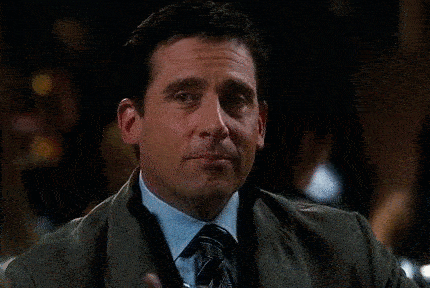 We won't go into detail about the plot because it's basically just an excuse to gather the characters together, but we will talk about the original show. Ricky Gervais and Stephen Merchant co-created the British equivalent and original The Office.
Whereas The Office U.S. shows some familiarity, comradery, and attractiveness of the atmosphere and characters, The Office U.K. shows the misery, discomfort, and uncomfortable reality of working in an office considerably better. The characters aren't as entertaining, in fact, they're a lot less appealing, and the imagery is depressingly gloomy, but Ricky Gervais and the other characters do an excellent job at presenting it. If you have an extra 6 hours to spare, you should consider it.
Scrubs
🕒 4d 6h 18m combined 🟨 8.2/10 IMDb 🍅 88% Rotten Tomatoes 🐿 9.5 Bored Hoard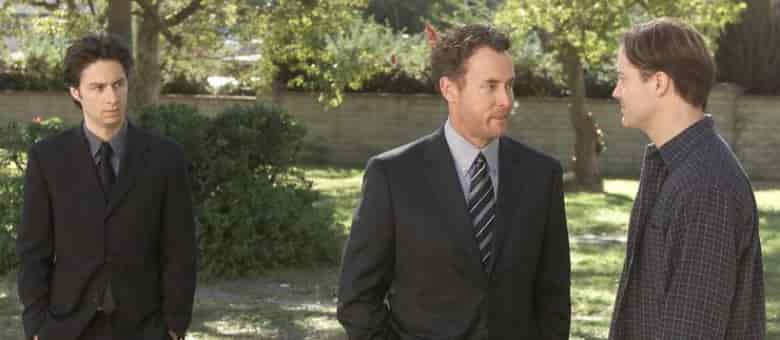 Scrubs is love, Scrubs is life. Scrubs is one of the best television shows we've ever seen, and we've seen it multiple times, from beginning to end. Seasons 1 through 8 are included in the term "end". Season 9 does not exist; it was created to make you appreciate the first eight seasons even more. And if you've seen it, you'll understand why. In fact, if this blog wasn't about good movies to watch when bored, we'd just tell you to watch this and be done with it.
But, returning to Scrubs, what makes it so good? Scrubs is a fantastic blend of comedy and drama set mostly in the Secret Heart Hospital, a teaching hospital where workers and interns demonstrate the joys and challenges of working as "scrubs."
The series is largely centred on J.D., whose voice-overs will take you through his perspectives and thoughts on his friends, the best of whom is Turk, with whom he forms one of the most famous bromances in television history, mentors, most notably Dr. Cox, whose temperament and work ethic, combined with his incredible wit, make him our favourite character, or simply other colleagues or side characters.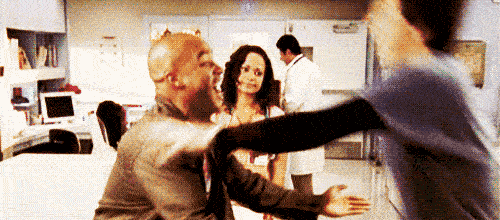 These are also part of what makes Scrubs such a fantastic show: the characters Todd, Ted, Laverne, and Jordan are all superbly written and add to the whole experience. The Janitor deserves special recognition. Neil Flynn is a talent in the series who frequently improvised his lines on stage, making the performers laugh, and he manages to create a character who will be remembered and adored by those who have watched it.
Scrubs is the one show we strongly advise you to watch. It will make you cry, laugh, and make you feel like you're a member of the gang, wanting the series to never end, until it does, and it will make you sad because you're not ready to let go and never will be. Like them, the scrubs, in many circumstances, and once you've seen it, you'll understand what I'm talking about.
Schitt's Creek
🕒 3d 0h 48m combined 🟨 8.4/10 IMDb 🍅 83% Rotten Tomatoes 🐿 7.3 Bored Hoard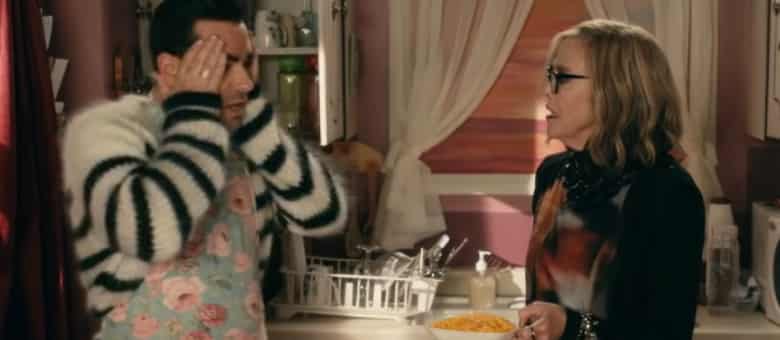 For us, Schitt's Creek is a unique entry because we started watching it without knowing anything about it or having heard anyone else talk about it. And, oh, was it lovely.
The storyline tells about the Rose family, a prosperous family who is defrauded by their business manager and forced to live in a motel in the cheerful Schitt's Creek community. The effect of comedy is now obvious and not wholly original. The storyline of wealthy folks having to reinvent themselves from the ground up has been explored in numerous shows and films in the past, but Schitt's Creek does so in an unrealistic, illogical, goofy, hysterical way that leads to some incredibly hilarious moments.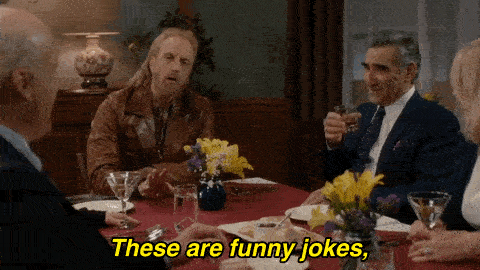 The characters are clearly the show's pinnacle, and while Johnny, Alexis, and David are all fantastic, Moira, oh Moira, is on another level entirely. Moira is a character you can't get enough of, with her elegant manner of speaking, amazing fashion taste, and naiveté. Her conversations and acts will make you laugh out loud, as evidenced by the "folding cheese" scene with David. Moira is someone I don't think we'll ever forget.
Although the character development and overall storyline are cliched and occasionally corny, the show's true worth comes from the amusing humour and characters. There is also a real life father son relationship here, with both Dan and Eugene Levy who are actually related and funny enough also have some good movies to watch when bored of their own, but we'll save them for another day.
Dog Whisperer with Cesar Millan
🕒 7d 8h combined 🟨 8/10 IMDb 🍅 83% Rotten Tomatoes 🐿 6.44 Bored Hoard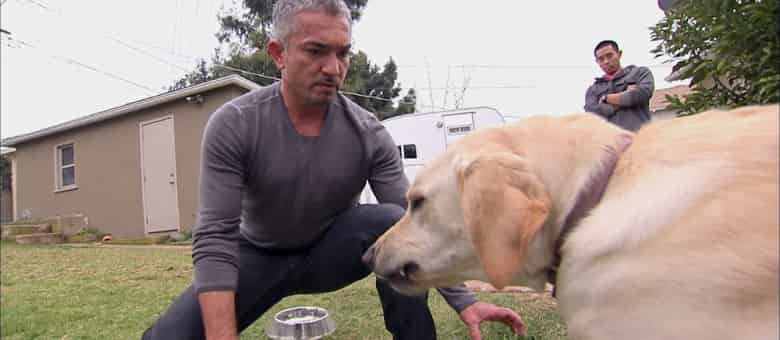 Is this an odd entry? No, we don't believe so.
If you love animals, especially dogs, you've probably heard of Cesar Millan and his incredible dog training abilities. If you don't like animals, you're just a bad hombre.
Going back to the subject at hand, this show is simple to follow, teaches a lot about how to train your pets, and is just plain amusing. Everyone is curious to see how Cesar Millan will resolve cases that seem to be becoming increasingly problematic as a result of various dog breeds not behaving as they should.
No problem is too large for Cesar; all he has to do is storm into the pet owner's life, yell a few "Shhh!"s, then flick his fingers Thanos-style, and the problem is fixed. It's a sight to behold.
The takeaway of the stories is always the same: Cesar is training the owners, not the pets; dogs are not wicked by nature; they simply reflect the frustrations and instability of their owners.
There's even a South Park episode that perfectly depicts this, in addition to being one of the series' most enjoyable episodes. To be honest, if it was between this or good movies to watch when bored, we'd most likely choose the movie.
Short TV shows you can binge
Yes we're aware we have totally strayed away from good movies to watch when bored but we wanted to cover all bases. Now if the shows in the previous category kept you entertained for a few weeks (unless you were insane and watched them all in one weekend), the shows in this category are for people who don't necessarily like to watch a series for a long time, watching characters grow and evolve and, in many cases, become stale and unappealing, right Lost?
The items on this list are for folks who like to watch something for a short period of time before moving on to another tale or plot. This goes some way to explaining the spike in True Crime docuseries viewers, which, to be fair, we were addicted to as well. Again, we've moved away from good movies to watch when bored but we think this is important for you to know.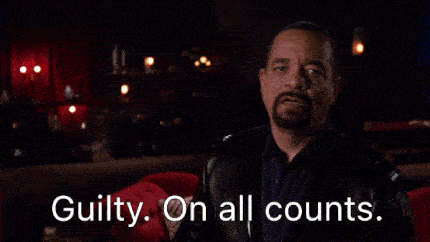 Now, because this is a list of shows to watch if you're bored, we won't recommend any of those because you'd have to pay close attention to the narration by definition (we know, we made a few exceptions above), but if you go to Netflix or Amazon Prime, just pick a random True Crime documentary and binge watch them all.
However, as a precaution, those are not shows that you should watch with your family. Some of the shows listed below aren't either, but hey, they're all worth seeing. In fact, some of the good movies to watch when bored aren't family safe either, so just watch when the kids are in bed. Anyway, let's carry on shall we?
Episodes
🕒 20h 29m combined 🟨 7.9/10 IMDb 🍅 80% Rotten Tomatoes 🐿 6 Bored Hoard
Episodes is a series about series, a meta-series if you will, in which the main protagonists Sean and Beverly, a married couple who have written popular shows for the British audience, are requested to relocate to the United States in order to repeat their most recent success. Is that you The Office?
Needless to say, things don't go exactly as planned: the network radically changes the show, forcing the couple to cast Matt LeBlanc, who in the series, as in life, is Joey from Friends. From there, things grow even more convoluted, and admittedly, a little gloomy for a comedic series.
However, the series is largely entertaining to watch, with a decent plot and well-developed characters. We recommend it because it's different from what we're used to seeing.
(Side note, can anyone suggest any good movies to watch when bored that involves Matt Leblanc? Or did his career just stop after FRIENDS?)
Black Mirror
🕒 21h combined 🟨 8.8/10 IMDb 🍅 84% Rotten Tomatoes 🐿 7 Bored Hoard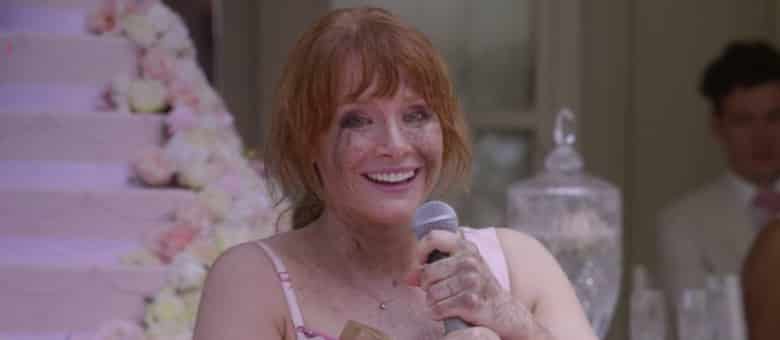 Black Mirror is one of those shows that people think of when they want to make a prediction or get a glimpse into the future. Black Mirror is a fascinating show to watch, as it raises significant questions about society and technology, as well as how the two have become increasingly entwined in recent years.
With the exception of a few rare exceptions, the episodes are self-contained, so you can watch them in any order you want and, why not, skip the ones you don't like. However, if you're a bit of a future-voyeur attracted by plots typically seen in thrillers and love a good plot twist, you'll enjoy this one.
The storylines in the series are unique and diversified and rarely seen elsewhere, maybe some episodes of The Simpsons can be deemed somewhat similar; nonetheless almost all of them are quite amazing.
Now, this is another entry that you can't really watch while doing something else because you'd lose track of what's going on, so it may have a low boredom-killer rating, but we highly recommend the series for the high-quality storytelling and the innovations presented in the series, which we're sure we'll see in real life soon enough.
Extras
🕒 6h combined 🟨 8.3/10 IMDb 🐿 7.3 Bored Hoard
Yeah yeah yeah, another Ricky Gervais series. So what? We love the lad and quite frankly this short series deserves a spot in the list. Not one many have heard of, Extras is a comedy series split in short episodes in which Andy, our lad, is an actor who is unfortunately stuck in playing roles as an extra.
Andy will attempt to gain better acting parts with the help (or not) of his agent Darren, Stephen Merchant, and his best friend Maggie, Ashley Jensen, in each episode until he gets his own TV show one day. What will be the ramifications for Andy's life?
That's just the main plot; the entertainment value comes from the awkward and odd circumstances that arise during the filming of movies and shows, such as Andy's connections with big-name actors that have been in their own good movies to watch when bored (that haven't made it onto our list) like Samuel L Jackson, Kate Winslet, Ben Stiller, and even David Bowie.
Squid Game
🕒 8h 6m combined 🟨 8.1/10 IMDb 🍅 94% Rotten Tomatoes 🐿 6.66 Bored Hoard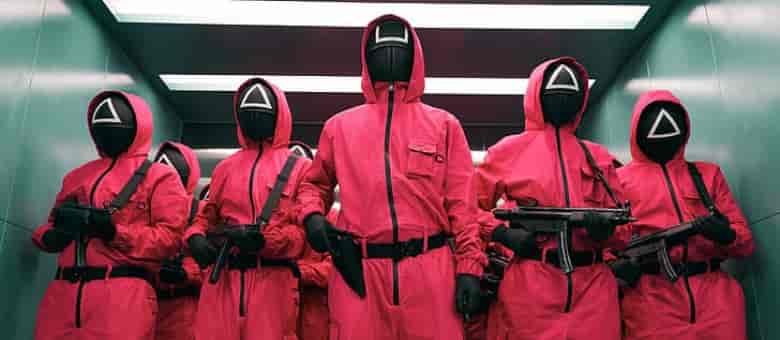 Who hasn't seen Squid Game 2021 yet? The show was a huge hit and quickly went viral. Maybe/also because of the recent entry of South Korean products on the west side of the world headed by the Oscar winner Parasite, or maybe/also because this was distinct from the other shows the general public is exposed to (by no means the first of his genre).
If you haven't seen it yet, Squid Game is a survival series in which various social outcasts risk their lives in order to win a huge sum of money. The peculiarity is that the contestants will challenge each other over traditional kids games such as tug of war or marbles.
As the series progresses, we'll learn more about the mysteries and get to know all of the characters…well at least the ones who survive. This series is far from flawless and may leave you with some reservations; yet, we recommend that you watch it, not with your children or teenagers because it is rather violent.
There has also been rumours that we could see this turn into a movie, so it could well find itself added to the good movies to watch when bored in the coming years, but let's not get carried away.
Good movies to watch when bored – that's a wrap folks
So there you have it, a list of good movies to watch when bored (and shows) or just if you're looking for some inspiration. We could have gone on and on, but we didn't want to overwhelm you with our brilliant suggestions. Now if you are unsure how bored you actually are, take our "How bored are you quiz" to find out your rating so you'll be clearer on what it is exactly you should spend your time watching.
However, no one is perfect, so if you have any further suggestions for us, please share them in the comments section below and we may even add them to this blog of good movies to watch when bored. Let's keep this list alive to help all of our bored peers kill time with valuable binging. It's a wrap.